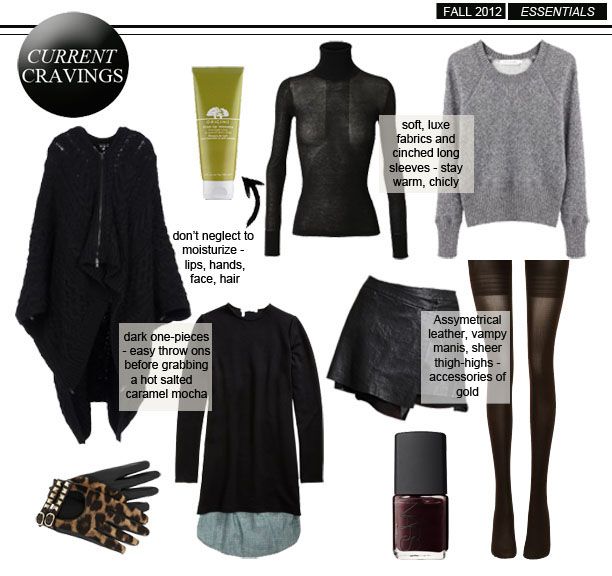 Gloves: Valentino | Moisturizer: Origins Intensive | Nail Polish: Nars | Cloak: Maison Martin Margiela | Turtleneck: M. Patmos | Miniskirt: Joie Bryson | Sweater: Isabel Marant |
Dress: 10Crosby, Derek Lam
TUESDAY. Lately, I've been working on reproportioning the features in my wardrobe. It's getting to be a chore, calculating in factors of versatility, trans-seasonal options, cuts right for my body frame, long-lasting
comfortable
materials.. The fall essentials formula is the most appropriate for me to use because I live in the rainy, temperate Seattle. Layering capabilities and overall item use is so incredibly key for me..the starving recent college graduate *sort of*
So, obviously, I'm in the process of selling/donating a few pieces that make me cringe when I see them hanging uselessly in my closet. Like, I've been willing certain pieces to look good on me for ages. But no such luck, I feel. Even when others tell you something looks marvelous on you (sales girls, excluded), if you don't feel golden when you slip on your clothes, it'll just be frustrating in the long run.
I've forgotten to add SATIN-LACY thongs and MODAL tshirts and water-protected leather boots to this compilation, but that should go without saying. Pictured, instead:
see above
. You know I'm wanting to know what's on YOUR fall essentials LISTs. Leave me some healthy wardrobe tips in the comment bin. Otherwise, chao for now.