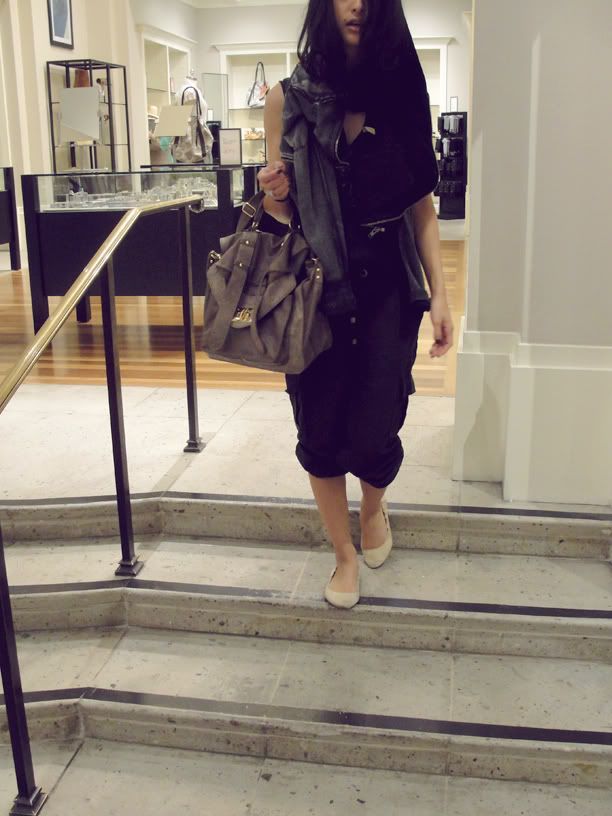 Jumpsuit: Calvin Klein | Hoodie: Buckle | Ring: BCBG | Flats: Zara | Bag: Steve Madden.
At long last, I've succumbed to the practicality of the

jumpsuit.

*You were right, Tori!* (p.s. Using the restroom is no more difficult than the couple motions it takes to pull down a proper pair of pants) This

Calvin Klein

minimal grey-blue number

drapes so effortlessly

, not to mention comfortably. I opted for nude ballet flats for my downtown rendezvous, but on second (and third, fourth...) glance I think that the capris length would definitely be better complimented with casual heeled booties. I draped a zip-up hoodie over my shoulders and pulled up the hood for further coziness.
And knowing that

most if not all of my purchases have calculated versatility

, I will note: A pair of

stilettos

and a cropped, slimming blazer or

bolero

would turn this mechanics gear into

evening drinks

wear. I've also donned it with a tank and rolled down the top portion for some

hot-weather slacks

. The

silky sanded material

suits well for cooling in Summer or layering come Fall, of course. It's a welcome and

needed addition to nearly any closet

.