New Article for
CocoKouture.com (click link for fully edited version)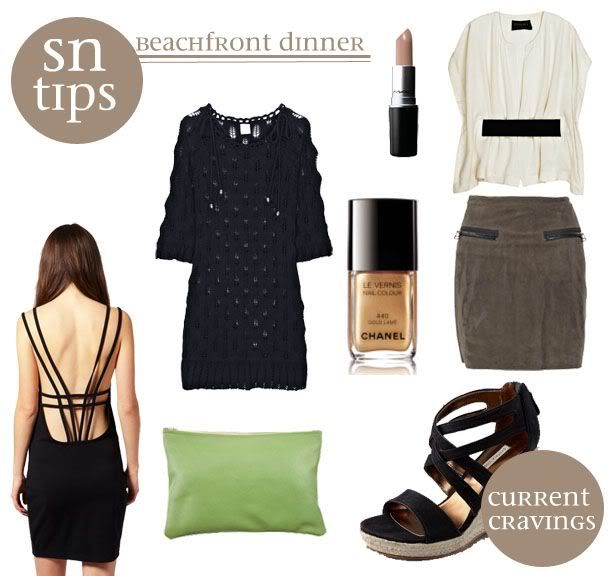 Clothes. V-back dress: Asos | Blouse: Vionnet | Skirt: 3.1 Phillip Lim | Crochet dress: Milly
Accessories. Lime clutch: American Apparel | Espadrilles: Twelfth St. by Cynthia Vincent
Makeup. Lipstick: M.A.C. in Nude | Nail color: Chanel in 440, Gold Lame
Dinner parties are for dressing up; beach days are for bumming down. At beachfront dinners, it's important to master the paradox by blending casual textures with structure for well-balanced looks.
These 7 beachfront dinner looks can help you get started:
For our first outfit idea, we thought of a teasing piece with back cleavage, such as a V-backed dress, like this knee-length dress from Asos. If you're more of a V-neck girl, just take care that your skin exposure is calculated and not overly revealing. With an exposing garb, opt to wear a dress or skirt with a longer hemline to balance out the outfit's skin-bearing.
For our second outfit idea, we take a cue from Brisbane natives Yiota and Thessy of the sabo.skirt blog, and go with a comfortable maxidress. In my interview, the girls noted:

Want a one-piece that doesn't keep you too conscious of the wind? Our third outfit is both a beach-and-dinner friendly one-piece. This black, floor-length romper from Elroy is casual chic and can be worn with footwear and accessories of nearly any color. Leaving your hair down for assured femininity is a bonus.
Our fourth outfit idea is more traditional, ergo an instant posh hit—a summer white frock, like the little white dress Yiota wears in the image below. White is always a fresh, though time-transcending beach color that craves a favorite statement piece or two. For example, a neon clutch (like this hot number from freelance stylist's Carolina Engman's of FashionSquad closet) plays up your blank piece while keeping the structure that is appropriate for dinner.
Yiota models our fourth outfit option of clean, summer white.
Another white outfit option that strays from tradition brings us to our fifth outfit: White, well-tailored trousers and a light-hued cashmere blouse are fabulous for cooler beach nights. The level of formality of the dinner, as well as your general body shape, will help decide what cut and texture your pants should be. For instance, long legged girls can don this season's high-waist and/or flare fad while petite girls can sport tapered skinny cuts. A dinner with giant pillows for seating on the sand will let you wear canvas bottoms whereas a nice patio dining area will let you wear even the silkiest of pants. A crème or barely peach cashmere sweater with scrunched up sleeves, plays up your canvas pants, plays down your silk ones, and neutralizes any material in between.
If you're going to a dinner that is even more towards formal wear, try our sixth idea: a careful blouse and skirt or short combination. Keep attention to fabric, cut, and any accessories. Many designers and retailers have great short-sleeved and sleeveless blouses, so you can cheat the heat while still looking well-kept. Silk and chiffon are great materials for such occasions as they will keep you cool in the beach heat, are easy to wash at home, and are dressy enough for dining out.
Thessy does our 6th option with a careful blouse and skort combination.
For our seventh and final look, take note of the new trend March 2011's issue of Vogue Espa

ñ
a compiled: the hot pant. Before envisioning the uniform for a serious aerobic session, try picturing this patterned pair from Loewe's Spring 2011 collection. This piece unconventionally dresses up typical sports wear to create a lovely balance of formality and play.
And while bare feet are common to beaches, you'll want to be a little more polished at a dinner party. Try flat sandals (like these ones from BCBG) or beach-appropriate espadrilles (we love this pair from Twelfth Street by Cynthia Vincent).

So, the next time you get an invite to a fabulous beach-front dinner party, pull out your favorite beach and dinner pieces and mix to see what works. If it means going to the store to buy one beach/dinner-friendly piece you don't have in your closet, do it - chances are, it will work well in other occasions too. It's spring. Now is a wonderful time to add casual but structured pieces to your wardrobe.