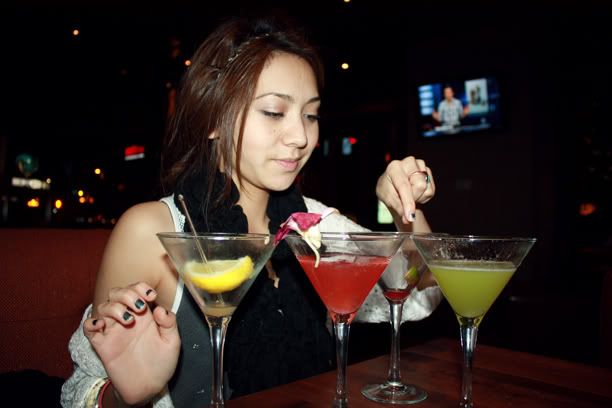 Happy Sunday, Mis Amores:
Mon | H&M skinnies. Rachel Roy quarter sleeved, off the shoulder number, olive with black, thin almost pin stripes. BP slouchy black soft leather boots. Cashmere black pullover from Coggles. Skinny studded belt, half-assedly tied around my midriff. All saints scarf quadruply tied, warranted by cool weather.


Tues | Drugstore black tights (I cut footless for dance practice). Bcbg creme long-sleeved top. Nude Zara ballet flats. Actually had time for some cardio and suspension training at the gym


Thurs | Cheap Monday cropped knit over a button down from F21 I bought eons ago. Guess leggings. Nine West tan faux goat-hair sandals. Grabbed a grande drip coffee and did some text reading on the library balcony with a friend had my Dunhill tote heavy with my 17" Vaio, gym clothes, fat texts, and DSLR.


Fri | Michael Star cropped long sleeves over black crochet leotard. Lola grey skinny jeans. Jeffery Campbell wedges. Medium rare burgers with Pepper Jack and girly cocktails (Doctor's Orders with acai, pomegranate, and vodka? Yes, please) at Earls in Bellevue.


Sat | Black tweed mini skirt with slit. Shushimi Navy cropped bat-wing top. Sam Edelman stilettos.
In other news, Phantogram played at Quadstock and was amazing.