My first assignment and article for the newly launched, New York-based sartorial site CocoKouture.com, required that I discover a couple of basic, "dressing well" tips for the clueless.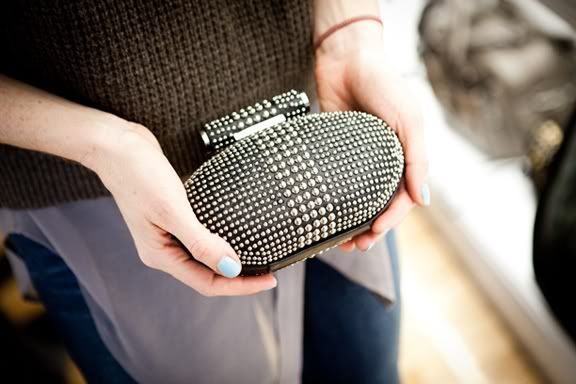 Why it is Important|
The whole pretext for why fashion magazines are so successful is because people understand that, most often, you are how you dress. A conscious dresser acknowledges this basic principle: The way you dress on a day-to-day basis demonstrates

an important element of your self-worth. A quick retort might be that internal worth outweighs the external. And while this may be true in its totality, it should not be true to the extent that one ultimately disregards fashion.

How you

dress on the outside

will provide for people the message that

you are responsible enough to maintain your overall well-being

.

Just because you share an interest in fashion

does not mean that fashion is your whole life.

A

Vogue January 2011

article reads,

"Even if [you] are decorative enough to enhance a front row, that does not mean [your] goal in life is to be an idle creature of fashion (Vogue 2011; 56)."

It solely means that you care enough about your surface, as well as your interior.
Proportion|
To dominate the art of fashion, the wearer must abide by

the laws of proportion

. This does not mean that asymmetrical pieces of clothing should not be worn. In fact, it is in asymmetrical designs where proportion is most played. If the lapels of your blazer are large and off-angled, sport something clean-lined and quiet on the bottom. Think skinny jeans or a pencil mini skirt. At the same time, play with caution.

Be aware of your body frame.

For example, if you have smaller legs you will want to avoid mid-calf dresses.

That type of a hemline awkwardly cuts

off a petite girl's proportions.
In

Marie Claire's January 2011

issue, Tim Gunn addresses these proportion concerns when he advises to

don ankle booties "with a skirt, the hem of which falls to the top of your kneecap—or higher … [or] wear them with opaque tights that match the color of the bootie (Gunn 2011; 52)."

This does not mean, unfortunately, that all ensemble combinations and pieces look good on all persons.
Trends are Guides, Not Gods|
Know what compliments you.

Clothing goes far beyond just covering up;

li

ke makeup, it is for the accentuation of your assets.
We are all given a body type that we take care of by eating and exercising well and appropriately.

This type of

self-nourishment includes dressing well and appropriately.

(Note that this is

not synonymous with dressing the most expensively

) For example, if you've broader shoulders but a petite waistline, you can self-advise to avoid heavy shoulder padding but welcome high-waisted bottoms or waist-belts. Meanwhile, what is critical to note is what does look good on everyone.
Staples|
If all of this instructional info is overwhelming, remember the most basic, time-transcending pieces.

When fondling the racks for good foundational pieces,

keep in mind the fabric and the fit.

Comfort and draping are key

, since it are these staple pieces that will become the surviving veterans of your wardrobe.
1. White tee. Ashley Olsen had it correctly when she began her line The Row in quest for the perfect white tee.
2. Jeans. Once you know of a pair that flatters your rear and legs, buy more than one. Whether skinnies, boot-cuts, or slight flares, get pairs with tight stitching and good washes.
3. Blazer. You want a good blazer that will pull together an ensemble in one move. Mini dresses love them, feminine jeans and tees love them, maxi dresses loved cropped ones, the list writes on.
4. LBD. Little black dresses are a must for the unexpected night out. To make an LBD your LBD, wear a piece that catches spectators pleasantly off-guard. Is the knee-length dress that bares some back or a classy hint of cleavage dine hall appropriate or not? Is a mini body-con with conservative sleeves right for club-hopping or no?
5. Undergarment. Three essential drawers are those needed to make sure that they do not show: 1) Nude, properly-fitted braziers for white tops. 2) A comfortable thong for tight, pocket-less bottoms 3) Nylons for unshaven legs.
Carry Arounds|
Reina Clark, a The Daily Herald employee who has encountered sartorial street style first hand from Paris, Tokyo, and New York, marks the importance of two

fashion assists

that always need to be

carried around in your purse

.
Clark advises to "always have

clear nail polish

… for fixing tights [and] a

safety pin

if a button falls off [or to] fasten things to dress up your clothes, temp cinching." If you show up to a party and feel uncomfortable that your tights are about to run and that your blouse-dress is a size too baggy, it won't be a problem.
Just Remember|
If you want to reflect a strong character and a good work ethic, then keep these notes as principles for your definite clues about fashion.