For long now, everyone should be highly acquainted with the whole leather and lace thing. Leather and lace as the new cocktail getup, leather and lace in tough-woman-is-goddess songs; it's more than typical of a dark leather motorcycle jacket to cozy up to an ivory lace blouse. And while the celebrated combination is not hither to ready to be stored away, it can share the light with another feminine-meets-masculine couple.

Rugged denim

plus

delicate frills

broadcasts as a more unconventional "contrast pairing." It didn't occur to me until a friend photo messaged me a new dress and asked my thoughts on the mixture: it was a medium jean day dress, capped sleeves, mid-thigh with the length extending closer to her knees thanks to a peek of doily-esque white material. It came across as a brill summer number. That's when she turned me on to the idea that denim perhaps roughs up the frills in a way less extreme than lace's immediate antithesis.
Such a notion wasn't re-instilled until summer's closing, when

Women's Health

came out with their

September 2010

issue which doubled as a style guide. According to Kasil Jeans designer Taylor Jacobson "It's cute to mix masculine and feminine,

hard with soft

… like overalls and a lace top, or a frilly floral blouse and a … denim vest."

Granted, the combination isn't totally novel. While in Tokyo in the spring of 2008, I noticed a trend of peasant mini dresses (from tiny printed florals to bone colored lace) most often had with cropped jean vests and forehead-hugging cow-hide bands. Though it seems (in other jean news) that the denim on denim thing is trying to make a statement—as was evident in so many summer fashion reads, I can't seem to recall just one example—I'm not a fan. I may have done the jean jacket with jean bottoms thing in '02, as most 12-year-olds of the new millennium did, but I will currently vouch for denim on lace. And note: cow hide is leather, so if you just can't do without leather and lace, opt for your own take on Japanese fashion capital trends.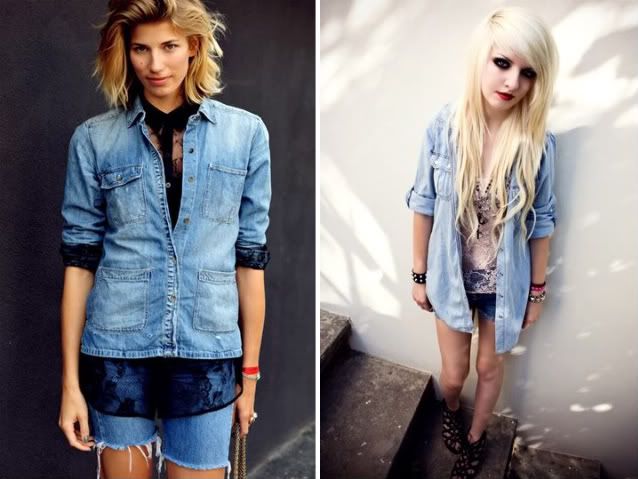 hanneli. lookbook.nu. gripp jeans winter. unknown.